Bluehost, one of the oldest web hosting companies has gone through a lot of changes in the last few months. They have increased the space, bandwidth and no of domains per account to match the best offer in the industry while keeping the price cheap. Now they offer unlimited domains and resources to match. If you are looking to host multiple domains and want the assurance of a reliable host, bluehost is a great option.
Bluehost and
Hostmonster
are from the same management and offer similar features and price. So which one should you go for? Well, these days there is not much of a difference. Same price, same features, same data center and nearly identical support, it doesn't matter which one you choose. Hostmonster offer a special price of $3.95 with
Hostmonster coupon
, and Bluehost does the same with
Bluehost Coupon
.
Bluehost Features
Bluehost offers almost everything one would like to have in a Linux web host: cPanel(probably the best control panel), Very high level of customization for PHP(.htaccess, Custom PHP.INI Files) etc. They also allow Shell Access(SSH) which will help the advanced users. MySQL databases, sub domains etc. are available in large numbers, and you can host unlimited number of domains in one account.

Bluehost also have top quality infrastructure and wide range of protection mechanisms including DDOS protection and power backup services.
Bluehost Discount
For the visitors of cheap-web-hosting-info, Bluehost offer a
special monthly discount price of $3.95
for a three year contract and $4.95 for two year contract. Compared to the regular price of $6.95 per month, this gives a discount up to $108(three years contract). You simply have to
click through this link
to get the discounted price.
Bluehost Performance
Bluehost like most of the competition, do oversell. That doesn't necessarily mean that the performance is going to be affected. Bluehost is reported to be one of the better performing hosts based on the reviews and feedbacks.

We have been monitoring Bluehost with a real account hosted with them using a third party uptime monitoring service. The results have been good, they delivered around 99.46% uptime from January 2008. This doesn't match up to the promised 99.9% uptime, but is not a bad figure considering the fact that most hosts never deliver what has been promised . Overall, they proved to be reliable for hosting serious websites. Checkout the screen shot below for the uptime details.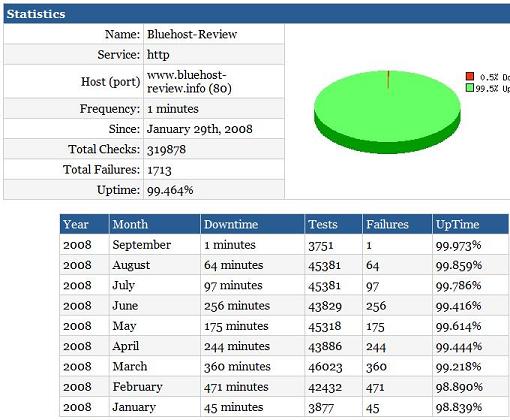 You may also check the live statistics here.
Bluehost Price Value
Bluehost has just one plan and the price is $6.95 for a two year contract and $7.95 per month for an yearly contract. Considering that bluehost offers unlimited add on domains and very high resources, this is a great deal.
Looking for something cheaper than Bluehost? Compare Prices Here.
Bluehost Support
Like most other hosts they do offer 24/7 toll free lines for support. Also you have a knowledge base, online chat and email support available. Better still, they have an active support forum which is a real help for the newbies. You get to share the information with support staff as well as experienced webmasters. Support tickets may not be fastest, but they do get replied in a reasonable time limit.

Bluehost support is overall okay, even though not the fastest.
Bluehost Reviews Added By Users
Really bad customer service and high prices

Site Hosted: http://wwwLifeReportage.com
IP Address: 109.158.243.253
I have been with Bluehost for the past 4 years and I would have moved a long time ago if it wasn't that moving my website is a real nightmare.
It happens so many times that my website is unresponsive. They keep saying that they are maintaining it and it's for my own good, but the hell with that... if they were after my own good, then they would keep my website online!
Every time I need something I used to rely on the live chat, which used to be very good. Now I don't even bother going on the live chat, because they make me wait for ages, and I mean 1 hour and 30 minutes for no solution to my problem! It might be a chance, but the last five times I have gone on the live chat, I got people with a terrible attitude, who will just not give me the answer to my question. It was so frustrating to have to ask a million times using different words, and every time I type a sentence they will keep me waiting for something like 10 or 15 minutes before they reply! I am not an expert in website stuff and this upsets them very much. It looks like they do not want to deal with me. If you are not an expert, bluehost is not straightforward. The indexes and the way it works need some trraining and that is why I am often on the live chat.
Also their prices keep going up every year! What you see on their front page is just a very temporary offer designed to pull you in. After the offer expires, all the prices will triple!
What a mistake signing up with them! Almost forgot: don't you even think of being successful, because the minute your website will explode with hits they will tell you that they don't want you anymore. Read the small print: Bluehost is for SMALL websites with little traffic and it is NOT intended for large and busy websites. One thing they are very good at: taking your money...always on time and every single year the prices have gone up!

Mike, England on 2013-06-13
Great Hosting

Site Hosted: http://www.coolguysatwar.com
IP Address: 64.235.122.98
I've been using Bluehost for a little over 2 years and have never had any problems. I host several domains with them on one account. The company is based out of Utah and all their support is in house, and as such they're all american english speaking techs. Their services are incredible. Oh and the guy a few posts down that says he moved to HostMonster... HostMonster and FastDomain are both owned by BlueHost. All three have the exact same support staff. You can call Bluehost and talk to one rep, then call HostMonster or FastDomain and possibly get the exact same person. The servers are constantly being upgraded which is awesome.

Tanner, Washington on 2009-09-28
Bluehost is good for beginners, but has flaws

Site Hosted: http://www.Ninja-Gaming.com
Bluehost is perfect, for starting out in the world of web design. It's perfect for websites that are static html, and great for testing a website and building it. However, if you your website gets a lot and traffic, and is dynamic php, and complicated files, rather than your plain old clipart static html website. Then bluehost sucks, with capping 50,000 CPU usage on your website, you' cant progress, and your stuck in the old days of hosting. Their servers are super old, and half the time my website is down, or lagging , because of their server load.

I picked them because, I was a advid wordpress user, and needed a host. However it was great the first few Months , simple and satisfied, with a easy cpanel, and simplescripts, it was easy making a website!

But then, I changed my whole routine into web hosting, and starter using higher php scripts, and programs , and stopped using wordpress to run my site. This is were i encounter problems, my site started to lag, because it was a social networking website, and was getting a great amount of traffic So my Cpu load was getting to big, so It was time to switch, because if your making a website that will be getting a ton of traffic, don't use bluehost, unless its static html files, where you can slide by...

Matthew Stenquist, Colorado on 2009-09-11
Frequent maintenance of site

Site Hosted: http://www.seo-admin.com
My sites are not accessible today. there was no intimation from bluehost for maintenance work. i logged into support center on their website and getting "box152" is fully loaded and its under maintenance. this is really troubling.

Musestech.com, Bangalore on 2009-08-06
Excellent Service by Bluehost

Site Hosted: http://www.mmdlabs.com
IP Address: 118.103.232.186
I have been on the net for past 15 years I tried every hosting literally but the best I believe is only Bluehost.
Good customer services and exceptional support.
Cheap reliable and 100% uptime since 2 years now.
Unlimited hosting/bandwidth where else can you get this from :)
So I suggest to use them

Mujtaba Karim, Pakistan on 2009-07-02
Suspsended

Site Hosted: http://viperslayer.net
IP Address: 71.230.57.178
I was suspended for having a PC game modification for Oblivion hosted on my site that I designed my self, which counts currently over 20k Downloads on TESNexus.com

When I questioned them why I was suspeneded I made it very clear, the content was entirely created by myself in Wings3d, and Photoshop. No content was not mine, when they told me that they didn't care, I swiftly changed host to Hostmonster who has had no problem whatsoever with such a redicolus claim.

Not only that, Bluehost had my site down at various points, many times a week. It was just the last straw

Stay away from Bluehost.

Jeff, Philadelphia on 2009-06-30
Top Notch

Site Hosted: www.bobomatic.com
Been with Blue Host for about 1.5 years now. Nothing but good stuff to say about them. They are great on the phone. When I killed something by mistake they were there for me. They actually speak English too!! I also made a mistake on the start up of the account and they were great. Their domain charges are a little higher than some ($10 ea) but I still buy them from BH because I like them. I am slowly getting away from my last hosting company... Not mentioning any names (1&1) but they were just evil.

James, Washington on 2009-06-22
just okay

Site Hosted: http://www.totalescape.com
IP Address: 67.150.124.235
Well I've been doing this web thang for about 15 years now. Making my living from Total Escape! Bluehost has my number one big site hosted & it falls off-line several times per year. When my summer rush starts (5G per day), they can never keep up & then I must fight to get back online. Every time it's a new story. Right now, I placed a new order (12 hrs ago) for a new HighCPU package, so my site can get back up (yesterday). At 8pm, they still had not gotten the right email to the right que & billing dept goes home at 5pm, so my site just sits here waiting. Now I gotta call back in this morning to get the ball rolling. Not a way to start the summer ; (

DanaMite, Pine Mountain CA on 2009-06-16
10+

Site Hosted: http://www.sbsforum.us
IP Address: 63.133.129.194
I am currently hosting about 10 websites with Bluehost. As with any company you are going to have some problems. I have only had a couple of times where I have had to threaten to take my business else where for them to get their act together. I would recommend them to people that want to host a fun site. All my "mission critical" sites are hosted on dedicated servers.

Garrett, Texas on 2009-05-20
disappoint about bluehost.com

Site Hosted: http://vietlandtravel.com
IP Address: 222.252.34.169
When have problem or error, bluehost suspend your site and recommend "Your site has been suspended for excessive mysql usage. The abuse department has indicated you need to find another host". Although, I have still for 3 month use on host and I accept upgrade pro package. But they support by way you must find new host.

Nguyen Thanh Tung, Vietnam on 2009-01-19

More Bluehost User Reviews & Offer »
Bluehost Comparison
Visit the links below for a side by side review of Bluehost and other popular web hosts.