Hostgator, founded in 2002 is one of top shared hosting companies, ranking consistently among the best by most of the review sites. What makes hostgator stand out from the crowd is their excellent support and customer friendliness. If you are not satisfied with the support, you could even get hostgator president Brent Oxley to personally take a look at your problem.
Recently Hostgator was taken over by EIG which also own a number of web hosting companies including large companies like
Bluehost
. A lot of people are in fact worried about the change in management affecting the Hostgator customer experience negatively. However if the track record of Bluehost is anything to go by, one can safely assume that EIG will not try to fix something that is working well.
Hostgator Features
Hostgator offers Linux as well as Windows hosting. All their packages come with all the features needed for a serious website. Baby and Swamp packages allow unlimited domains(add on), which makes a lot of sense if you have multiple websites. They use cPanel(on Linux), which is the best control panel around. You get Fantastico script installer which will install most of the popular open source scripts with few clicks.

They support PHP4 & 5, SSH, Cron jobs, Python, Ruby On Rails etc. Also, all the packages include enough POP3 accounts(20 for Hatchling and unlimited for others).
Hostgator Coupon
Here is couple of Hostgator discount coupons. For monthly billing, please use the first month coupon. Otherwise, 25% off should give better discount.
25% off :
GATOR25WOW
First Month Free ($.01) :
GATOR10COUPON
(best for monthly contract)
July2013 Special, 30% OFF :
COUPONS4HOSTING
(best for contracts longer than one month)
For more coupons and offers, please visit our
Hostgator Coupons
and
Hostgator Reseller Coupons
page.
Hostgator Performance
Hostgator host their sites on top-of-the-line Dual Xeon servers in their data centers (thePlanet) at Dallas. The data centers are well equipped and connects to 10 backbone providers. They offer 99.9% uptime Guarantee which is the industry standard.

We started realtime testing of hostgator uptime on Feb 2008. The test is done on a site hosted with hostgator, using a third party uptime monitor service. Overall, hostgator had been the best performing host from all the hosts monitored. They provided consistently high uptime, month after month. There has never been a single case of site being down for more than 10 minutes at a stretch. Hostgator indeed lived up to their reputation.

Below is the screen shot from our report. For an live report, you may check the uptime report available here.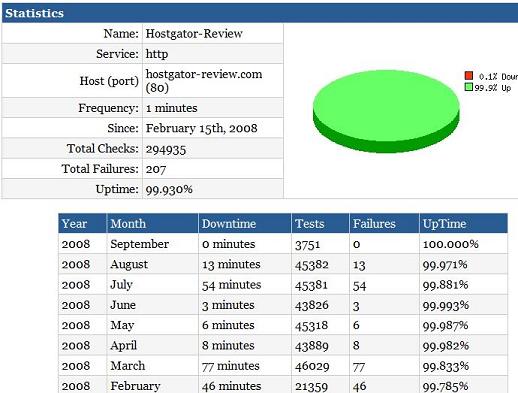 Hostgator Price Value
They have three hosting packages starting from Hatchling ($6.95 pm) to Swamp ($14.95 pm). The price is reasonable for the features and space/bandwidth provided. Recently Hostgator increased the space and bandwidth to unimaginable levels. They also reduced the price of all plans, by introducing 24 and 34 month pre-payment options. The monthly payment now have a small set up charge and is costlier than 12 month rates. Our advice - don't get excited by the unlimited space and bandwidth. They do have limits on file numbers(inodes) and CPU usage to make sure that only reasonable sized accounts remains in the shared servers. But for any site with a reasonable traffic, hostgator plans are more than sufficient. You obviously can not expect a site with few million page views a month to run on a shared host, no matter what bandwidth they offer.

Overall, hostgator is fair priced and provides enough resources for a shared web host.
Looking for something cheaper than Hostgator? Compare Prices Here.
Hostgator Support
Hostgator offers 24/7/365 toll free support. In addition, they have Ticket System, Knowledge base, tutorials etc. Also they have an active forum which helps in fixing most normal issues. Support tickets are fast, often response will be made in less couple of hours.
Hostgator Reviews Added By Users
Lousy security

Site Hosted: http://oveis.ca
IP Address: 38.122.184.162
I have close to 50 accounts with host Gator and my accounts get hacked way too often. They always try to blame me for the security breaches, but a few members of the support team finally revealed to me that it is their servers that are being hacked. What bugs the most, is that they try to ignore the problem and blame the clients instead of working on their lousy security. A team of liars is the last thing you want to deal with when you need help the most.

Amir H., Toronto, Canada on 2012-08-17
Best Web Hosting

Site Hosted: http://10webhostingservices.com/hostgator_reviews.html
IP Address: 92.82.173.189
Hostgator is certainly the most convenient web hosting package...use it for a long time but I never disappointed!:-)

Jim, Texas on 2009-09-30
It is a good host

Site Hosted: http://michaelwillow.com/
IP Address: 89.127.245.99
I think it is a good host. The only negative, you have to tolerate a little bit of downtime or better say it, slow browsing. Comparing with all the other hosts I tried this is the best. Their support is good. Once I messed up my php code and they fixed it, despite that this is not their job. Sometimes they don't give me a clear answer or they confuse me but I think that has to do with the person who is behind the pc as an individual, not with the whole company. In overall the positives are much more than the negatives. It is a trustful company and I recommend it.

Michael, London on 2009-08-11
Great Customer Support

Site Hosted: http://password-eu.net
IP Address: 81.99.198.142
I have used Hostgator for about 3 years now.
The very few times I had to get in touch with them - mainly because I was moving sites from one host to another - they were very helpful. So thumbs up for customer support.
New features are implemented to the Control Panel all the time to keep users updated to the latest option in webhosting.
I think is very good value for money.

Xavier Fernandez, London on 2009-07-22
the best web hosting

Site Hosted: http://www.selphiebong.com
Its been 2 years I've been using hostgator, and this is the best web hosting ever.
I've no of websites and I only satisfied with hostgator service, ever. They have the best support too. I just upgraded my plan to business, and continue it for another 3 years. Kudos.

mrs. bong, indonesia on 2009-06-17
Good if you don't ask for help

Site Hosted: http://www.thebangkokshoppingguide.com
When you do it yourself it's very good but I have just spent ten days trying to get my sites (with them) transferred to a reseller account (also with them) but it's been, and still is, a nightmare.
Passwords changed without consent, user names changed without consent, technical support who spell beautiful "beutyiful" spell Bangkok "bankok"and Thailand "tieland".
I've spent hours...literally hours on their live chat trying to sort out this mess but they are proving to be hugely incapable of sorting out the smallest of issues.
Like I said, if you set up an account and go with the flow, but if you have any issues...good luck !!

David Tudor, Thailand on 2009-05-21
Excellence

Site Hosted: http://www.sec-world.com
I switched to Hostgator after about two (2) years with a competitor of theirs. I don't want to say who the competitor is but I must say that Hostgator has them beat by 100% and for just half the cost. The support is second to none and thew down time is non existent. I would recommend the 'Baby' level of hosting at Hostgator to anyone!

Robert (sec), Athens, Ga. USA on 2009-04-28
An explendid web hosting company

Site Hosted: http://www.sexodevideos.com
Hello.

I purchased recently 3 domain names and 3 hosting services of different providers.

I must say Hostgator has been a nice discovery for me. I am really satisfied with their extremely good service, their fast responses for all my questions about the services they provide (and I have asked a lot of things and doubts).

Hostgator, in my opinion and based on my experience, is a high quality choice.

Greetings.

Gonzalo.

Gonzalo, Spain on 2009-04-09
Cheap, Easy, and Headache Free

Site Hosted: http://www.identifyyourbreyer.com
IP Address: 71.154.234.130
After terrible experiences with other hosting companies I switched to HostGator a year ago and I couldn't be happier. Transferring my site was easy, email setup a breeze, and best of all there has been NO downtime! Customer service is polite and solved my billing issue promptly. Highly recommended.

Janice Cox, California on 2009-04-09
Hostgator is the BEST!

Site Hosted: http://swanknews.com/
IP Address: 94.101.187.161
Hi all.
I had an account in ix*******, when some times my site goes down and not loaded about 5 days (!), i going to have a hosting account with HostGator.
1) This is very good and have many services.
2) High speed
3) Easy-to-use
4) Cheap price
5) REALLY 24/7 support!
I LOVE YOU GATOR!!!!

Afshin, Iran on 2009-03-12

More Hostgator User Reviews & Offer »
Hostgator Comparison
Visit the links below for a side by side review of Hostgator and other popular web hosts.